Ventilation metal floor air register
* Contemporary Style Brass Plated Floor Registers bring a fresh new look to a room with their gorgeous brass finish. This register cover will look great with any flooring type.
* Damper comes with all grilles and fully adjustable for air-flow control .Easily installed into floors, walls or ceilings.
* Beautiful victorian design .Matching screws for wall applications and matching plugs for floor.
* Widespread Air diffusion
* Easy-to-operate damper control .Rolled fin for strength and safety
*Durable powder-coat painted and electroplate finish.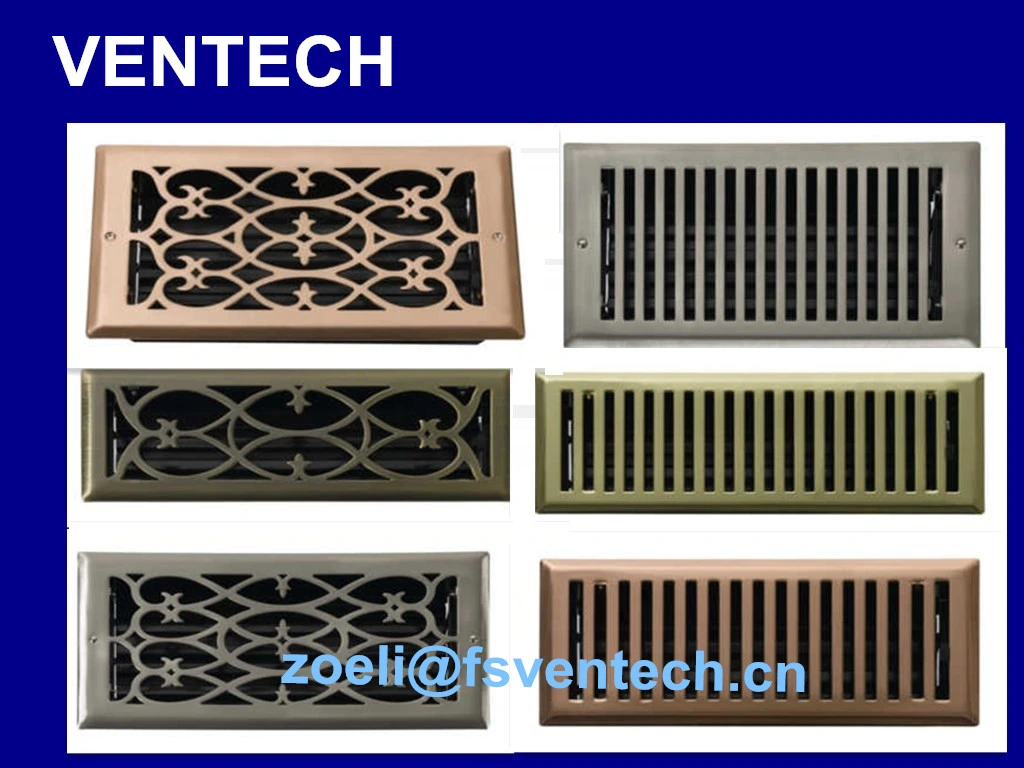 Accessories:
* Mounting holes & screws optional

Colour :
* Colour: Nickel ,Red Copper, Black ,Antique, Bronze, White

Specification :
Size (inch)

2"x10"

2"x12"

2"x14"

4"x10"

4"x12"

4"x14"

6"x10"

6"x12"

6"x14"
Structure:

Factory show :

Our services and mission:
* VENTECH is the leading supplier of air diffusion products in the international market.We dedicated in manufacture and design of air diffusion and ventilation for air conditioning system.
* VENTECH was found in 2006.We have 30000 square meter production area .With about 250 experienced workers.And soon we became a leading air diffuser and grilless manufacturer.
* We concerntration on high quality and competitive price.We have strict qualtiy control process,and every product is hand inspected to ensure it will be in good quality condition.
* VENTECH will work to develop new design and technologies to achieve better product performance,easier to install and higher quanlty year on year .
* VENTECH personnel will always cooperate with the customer to make doing business together and efficient ,fast and pleasant experience .
* VENTECH is you best choice ,we are ready to cooperate with you to provide a comfortable way of handling air.
Hot selling: